Hockey's loss is rugby's gain after 120-cap Irish international Audrey O'Flynn revealed she has switched codes.
The 27-year-old Cork-born defender has signed a sevens contract with the IRFU after quitting the Irish hockey panel, telling Southern Fried Hockey: "My gut feeling told me I shouldn't continue doing something I wasn't enjoying."
O'Flynn's withdrawal is a blow to national coach Darren Smith just three months before the 15th world-ranked side begin their qualification campaign for the 2016 Olympics in Rio, having repeatedly proven in the past 12 months that they can now mix it with the world's top 10. She had established herself as Ireland's main drag-flicking threat from penalty corners, scoring 26 of her 30 international goals in her last 60 games.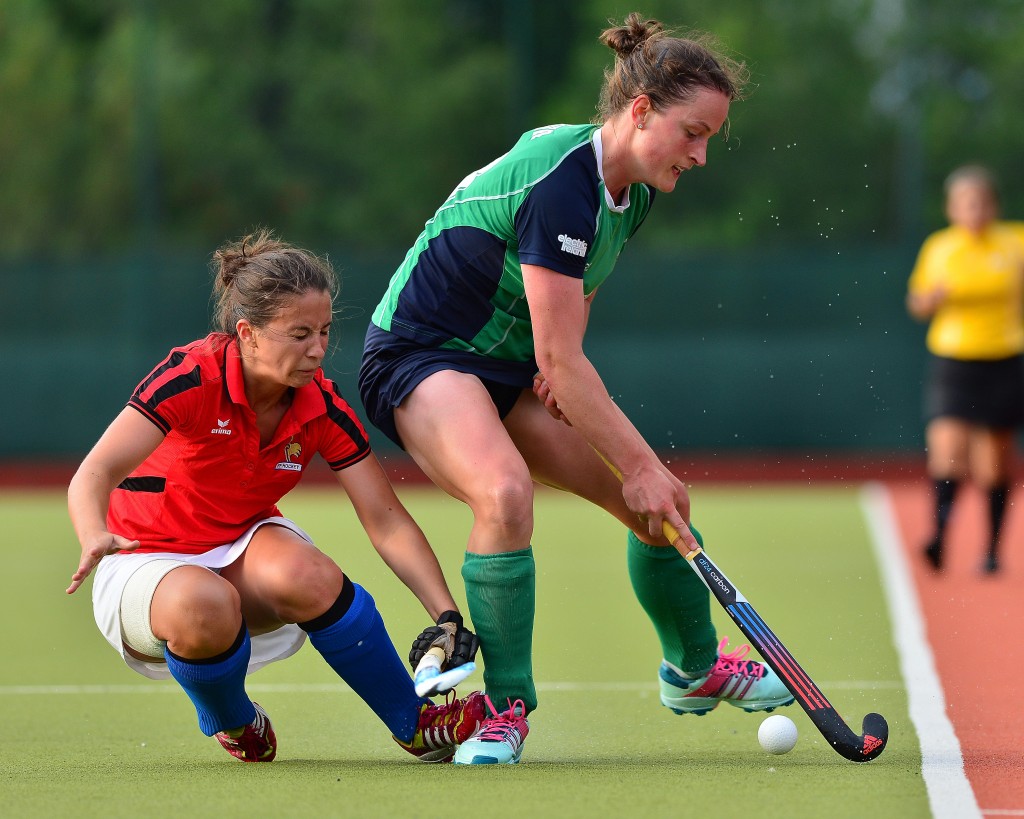 A product of Mount Mercy College who rose to prominence at senior level during five years with UCC, O'Flynn was something of a late bloomer at international level, making her debut two weeks before her 23rd birthday in 2010 having never been capped by the national underage teams.
She had been based in Dublin and was playing club hockey with Hermes, but has now followed Wexford woman Lisa Jacob – who stepped away from the Irish hockey setup in May – in pursuing an interest in rugby.
Jacob was one of 19 sevens players, including Rugby World Cup stars Alison Miller, Jenny Murphy and Ashleigh Baxter, handed the first central contracts in Irish women's rugby in October. Coach Jon Skurr said at the time he was still on the lookout for new talent from any sporting background, and O'Flynn is now the 20th player to sign up with the IRFU.
"I was probably playing my best hockey in a long time, and was in an Irish squad which has never had a better chance to qualify for an Olympics – but it wasn't for me anymore," explained O'Flynn.
"It was almost unimaginable for me to give up my place on the team and the opportunity to go to the Olympics in Rio as a hockey player as I had worked so hard for years for it. I initially wondered if I had made the right decision, but it was the right thing to do."
O'Flynn, whose first and last caps both came against Belgium, added that questions from those outside hockey about the sacrifices required to be on the national team led her to query her own motives for taking part.
"When I sat down and really thought about why I was persisting with the sport, I realised the Olympics was the sole motivator for me to continue playing hockey. I wanted to be an Olympian. But was going to an Olympic games for two weeks in 22 months' time worth the lack of enjoyment I had been experiencing as a hockey player for the previous eight or nine months?
"I was committing so much to the sport and not enjoying it. The Olympics would come and go – that's even if we qualified, I was picked and was fit to compete – and would I wondered would it be an anti-climax. I felt like I was putting all my energy into something I wasn't even sure about.
"I would tell myself that people would give their right arm to be in my position, and that I should find away to enjoy it because it is what I dreamt of growing up. I continued to work hard and give 110% to sport, but my heart wasn't in it anymore."
O'Flynn may yet end up in Rio, but playing rugby – Ireland have two shots at qualification over the next 18 months and 12 of the 20 contracted players will go to the Olympics if they make it – but she is relaxed about that prospect.
"It's a fresh challenge. I'm surrounded by new people and have the task of acquiring the skills of a new sport in a very short space of time – going into the complete unknown is very exciting," she says. "There is the opportunity to go to an Olympics, but my perspective has completely changed. I need to enjoy myself and the rest will take care of itself."