The dust has long since been wiped off the sticks and it's hockey season time again; SFH continues it's pre-season preview tradition with a team-by-team breakdown of the women's Division 1 sides as well as a general preview of Division 1B. Compiled by Andy Gray, written by Alan Good, pictures with thanks to Adrian Boehm/Irish Hockey Photographers and Eric Barry
CORK HARLEQUINS
Last Season: 1st Div 1
Coaches: Stephen Dale & Robert O'Sullivan
Captain: Kay Gaffney
Players In: Emily O'Leary (UCC)
Players Out: Abby Oakes (UCD)
First Three League Games: Bandon (H), Cork C of I (H), Cashel New Inn (H)
Having cleaned up in Munster last year and finished fifth in the IHL, Quins will be looking to take another step this year by competing at the business end in national competition. Emily O'Leary's return helps mitigate the loss of Abby Oakes who had become an important fulcrum up front while Alex O'Grady and Claire O'Sullivan (pictured, below) are the best-placed of the younger contingent to play bigger roles this year. A heavy pre-season loss to the Munster U18s while minus their regular back five underlined the importance of that defensive solidity, but Cliodhna Sargent and Yvonne O'Byrne's availability for Munster games could be limited with an Olympic qualification campaign on the cards for Ireland in 2015.
UCC
Last Season: 2nd Div 1
Coach: Phil Oakley
Captain: Nicola Kerr
Players In: Eline Van Zinnicq (SCHC, Netherlands), Clodagh Moloney (Catholic Institute), Joanne Schiller, Holly Lehane, Lucy Judge (C of I)
Players Out: Emily Reidy, Aisling O'Leary, Antonia McGrath (Erasmus), Aine Curran (Ulster Elks), Miriam Crowley (Bristol), Kate Harvey (Longwood University), Emily O'Leary (Cork Harlequins)
First Three League Games: Limerick (H), UL (A), Ashton (A)
Back in the IHL, but without most of the squad who got them there. UCC were relegation fodder the last time Phil Oakley was at the helm, and while things are much better these days, the students are very much at the bottom of their cycle after a raft of summer departures. Ireland U18 Clodagh Moloney (pictured, below) brings quality distribution and defence as well as a corner option, but Amy Kate Trevor, Ailbhe Coyle and Nicola Kerr will all have to shoulder more responsibility this year. A greater cutting edge is required up front if another title challenge is to be mounted.
CATHOLIC INSTITUTE
Last Season: 3rd Div 1
Coach: Brian Downes
Captain: Aoife Kenny
Players In: Sorcha Carey (UL)
Players Out: Clodagh Moloney (UCC), Katie Campbell (Injured)
First Three League Games: Cork C of I (H), Fermoy (A), Cashel New Inn (A)
All change at Rosbrien with long-serving coach Ger O'Carroll stepping away and Brian Downes taking over. Clodagh Moloney is a big loss while Katie Campbell is unlikely to be seen in Insta colours for a while, needing to rehabilitate a torn cruciate ligament having played on it for the past six months in an ultimately successful All-Ireland camogie championship quest with Limerick. Sorcha Carey (pictured below in UL action) is a very useful signing who had a fine goalscoring record in a UL team that struggled to get goals, but this season should be all about the likes of youngsters Roisin Howard and Roisin Begley integrating fully.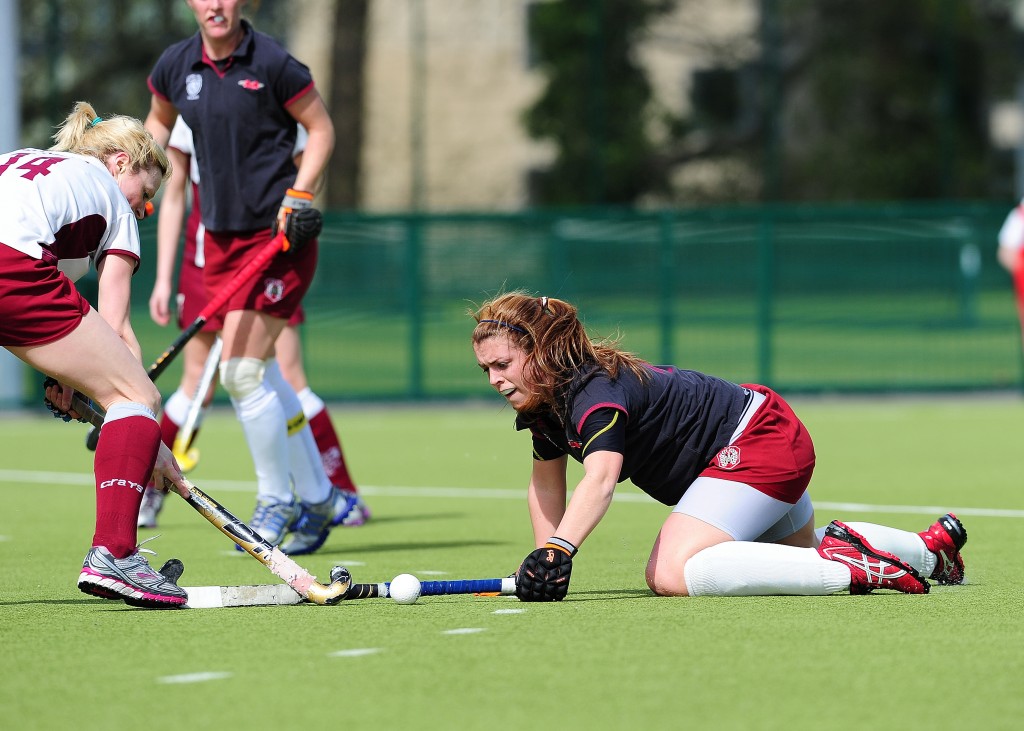 CORK CHURCH OF IRELAND
Last Season: 4th Div 1
Coach: Eddie Kirwin
Captain: Amy Roberts
Players In: Jenny Kenefick (Canada), Hollie Moffett (London)
Players Out: Edel Coyne (College in Limerick), Julie Coyne (Dublin), Rachel O'Hanlon, Pamela Wolfe (Dublin), Joanne Schiller (UCC), Holly Moore (London), Kate Burke (Ashton), Lucy Judge (UCC)
First Three League Games: Catholic Institute (A), UL (H), Cork Harlequins (A)
Surprisingly didn't benefit from the UCC exodus – although they should do in a season or two – but are nonetheless well-equipped to aim for an IHL berth. The Irish Trophy champions have plenty of goals in them through Amy Roberts and Ali O'Regan, while Louise Egan and Emma Rumley are turning into two of Munster's most dangerous ball-carriers. There's also defensive solidity via Kate Murphy and Jen Barry, although Ali O'Connor and Orla Crowley's inconsistent availability isn't ideal. Their depth has been hit by a handful of departures but former Irish international Hollie Moffett and Jenny Kenefick will be mighty additions once they are up to speed.
ASHTON
Last Season: 5th
Coach: Graham Catchpole
Captain: TBC
Players In: Kate Burke (C of I), Rebecca Trevor (UCC), Niamh Lane (UCC), Elaine Donnelly Murphy (Quins)
Players Out: None
First Three League Games: LHC (A), Bandon (A), Fermoy (H)
An exciting season in store for Ashton with four quality additions and more young players coming through than Graham Catchpole likely knows what to do with – more than 40 girls trialled for the first and second team panels. Goalkeeper Elaine Donnelly Murphy's arrival takes the pressure off Munster U16 Hannah Humphreys, who performed heroics last term, while Catchpole has highlighted a trio of girls currently involved with Munster U18s – Michelle Barry, Ali O'Shea and Rachel Foley – as ones to watch this season. Still being in IHL contention after Christmas will be the minimum requirement, before looking to oust one of the top four.
BANDON
Last Season: 6th Div 1
Coach: Ger Burns & Caroline Collins
Captain: Olivia Roycroft
Players In: Olivia Roycroft (Belgium), Rachelle Nyhan (UL), Steph Peters (UL)
Players Out: None
First Three League Games: Cork Harlequins (A), Ashton (H), Limerick (H)
Bandon have arguably recruited better than anyone in Munster this term with three potentially key players returning to the fold. Ireland U21 Olivia Roycroft scored a ton of goals during her brief sojourn home from Belgium last winter and is now back full-time; Steph Peters benefitted from being UL's main woman for a couple of years while Rachelle Nyhan is among the toughest defenders in the province. Add to the mix a canny coaching duo in Ger Burns and Caroline Collins plus Munster U18 panellists Saoirse O'Leary, Jenny Buttimer and Ingrid Burns and you've the makings of another side with potential to gatecrash the top four.
LIMERICK
Last Season: 7th Div 1
Coach: George Blackwell
Captain: Laura Peters
Players In: Gill Quigley (Break)
Players Out: None
First Three League Games: Ashton (H), UCC (A), Bandon (A)
An ambitious statement of intent saw Limerick install Denis Pritchard as director of coaching over the summer, and he will work with the club's coaches to ensure the excellent development work of the past decade is ramped up. The Villiers-based squad have a very settled side with Kate Healy among the top netminders in Munster while Laura Peters, Shelley Forde, Sandra Rossiter and Hedigan and Lorraine McGowan remain the key fulcrums. Munster U16 Laura Foley is definitely the one to watch – an attacker blessed with balance, skill and intelligence.
UL
Last Season: 8th Div 1
Coach: TBC
Captains: Ciara O'Sullivan & Laura O'Kane
Players In: Laura O'Kane (Erasmus)
Players Out: Steph Peters, Rachelle Nyhan (Bandon), Sorcha Carey (UL), Elaine Breen, Eadaoin Moore, Emma Wilson, Werner O'Driscoll (Erasmus until Christmas)
First Three League Games: Cashel/New Inn (A), C of I (A), UCC (H)
To their extreme credit, UL have managed to keep the show on the road for now. With the majority of last year's panel departing and no second team to pull players up from, it looked like the Limerick students might be no more but a successful recruitment drive has helped them stay afloat. What level of quality the new girls bring and whether it is enough to sustain their interest in Division 1 is another matter but the new structure should suit UL in that regard with more competitive games after Christmas if, as expected, they end up in the Challenge.
FERMOY
Last Season: 9th Div 1
Coach: Alan Good
Captain: Aibhín O'Sullivan
Players In: None
Players Out: Stacey Hegarty (Newcastle), Ondine Roche (retired)
First Three League Games: Cashel/New Inn (H), Cath Inst (H), LHC (A)
Fermoy endured a tough campaign last year, winning just once in the league as more than half a dozen departures saw young players blooded earlier than intended; last year's midfield had an average age of 15. That is nonetheless the area of Fermoy's greatest strength with Niamh Sexton, Ruth Herlihy and Maeve Murphy boasting plenty of Munster experience. Sisters Ava (pictured above) and Sophie Merry will play more important roles this term as they look to get more points on the board and continue their development, while in Irish U16 goalkeeper Kathryn Buckley, Fermoy couldn't have asked for a better replacement for the retiring Ondine Roche.
CASHEL / NEW INN
Last Season: 1st Div 2
Coach: TBC
Captain: Caroline Maher
Players In: None
Players Out: None
First Three League Games: Fermoy (A), UL (H), Catholic Institute (H)
A journey into the unknown for the Tipperary side, who like Limerick and Fermoy before them are completing a long run of promotions through the divisions and lost just a single game in winning Division 2. Ex-C of I woman Suzanne O'Connor, Cora Hennessy and Munster underage representatives Cliona Sheehy and Rachel Perdue are among their taliswomen but they have been hit in pre-season with the departure of coach John Ryan. That lack of organisation and structure could prove their undoing against the top sides but they will be more than a handful for last year's bottom four.
DIVISION 1B ROUND-UP
A fascinating year awaits in Munster's newest league, featuring sides from every corner of the province and plenty with ambitions of playing in Division 1 some day.
Clonakilty are the side to watch, taking with them the momentum of last year's Division 3 and Irish Challenge victories as well as Freda Buttimer, Cathy McCarthy and Trish Moloney making the Munster Juniors panel.
Melvin Beamish's charges have also been busy on the recruitment side, adding former Cork Harlequins star Jane Chapple, who joins influential sister Hilary in the side, Claire Sexton – the star of Sacred Heart Clonakilty's successes of recent years – and Louise Daly to their ranks although the loss of goalkeeper Debbie Hurley will be keenly felt.
The sides who came from Division 2 will of course be keen to show they are top dogs, although none of Tipperary, Belvedere or Waterford – who are celebrating their 80th anniversary – have brought in new faces, instead relying on their own youth sections to freshen things up.
Conor O'Kelly's Blackrock are an interesting proposition, boasting a spine that most Division 1 teams would be happy with. Former Ireland A international Mel Ryan is joined by Munster Junior captain Claire Bergin and her interpro colleagues Laura Hogan and Ann-Marie O'Connell up the centre, while another Munster player, Sarah Dorney, and Helen O'Connell provide bags of pace.
Bruff have lost three players but gained a tidy operator in Beulah McManus, while Clonmel are celebrating the award of a Spots Capital Grant for a new pitch which is expected to be ready in time for the 2015/16 season.
Cobh come into the campaign with a settled squad but the same can't be said for Dungarvan, who have been hit with a number of departures including fulcrum Aoife McGovern – who has Division 1 experience with Fermoy – while Roisin Briggs' injury struggles continue.
Cork Wanderers, under the guidance of David Egner, could be dark horses despite being among the clubs to make the big leap from Division 4, with four new players in their ranks for the coming campaign.